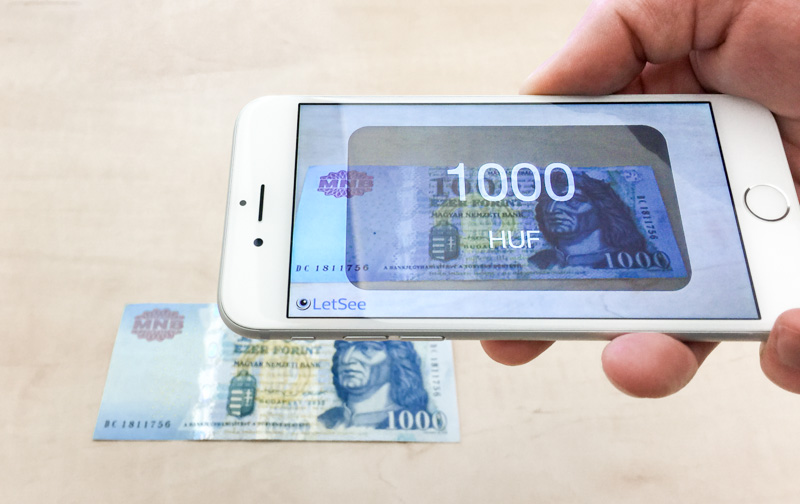 LetSee: an App for Vision
LetSee: segít a látásban
---
Our aim is to develop an application to help visually impaired people. LetSee is an easy-to-use app to facilitate their lives, and help them to solve common recognition challenges. LetSee enables blind users to gain visual information by providing audio feedback. In addition to recognizing paper money, the current version it can be used to train and recognize your own plastic cards, and it also has a light intensity meter. We are continuously extending the LetSee toolbox to make it more useful.
Célunk egy olyan alkalmazás fejlesztése, amely a látássérülteket segíti életkörülményeik javításában. A LetSee egy egyszerűen használható alkalmazás, amely segítséget nyújt a mindennapokban felmerülő nehézségek megoldásához. Segítségével a látássérült illetve vak felhasználó hasznos információkat, hangjelzéseket kaphat a környezetéről. A jelenlegi verzió a papírpénzek felismerésére mellett használható bankkártyák és igazolványok betanítására és felismerésére, valamint egy fényintenzitás mérő funkció is megtalálható benne. A LetSee eszköztárát folyamatosan bővítjük, hogy minél hasznosabb segédeszközzé tegyük.
LetSee provides endless possibilities to its users. We are constantly working on improving our services and introducing more features, like making it able to identify colors, recognize pictographs, read small displays on household appliances, recognize numbers of public transport vehicles, locate crosswalks, etc. If you have any questions, feedback or feature request, please email us at info@letseeapp.com 
A LetSee számtalan lehetőséget kínál felhasználóinak. Folyamatosan dolgozunk az alkalmazás fejlesztésén, új funkciók bevezetésén, többek között, hogy képes legyen színek illetve piktogramok felismerésére, digitális kijelzők leolvasására, járatszám-felismerésre, gyalogosátkelők megtalálására stb. Ha kipróbáltad, és kérdésed, visszajelzésed, fejlesztési ötleted van, kérünk írj nekünk az info@letseeapp.com emailcímre.
We are really excited to show you how it works! Download LetSee! :)
Izgatottan várjuk, mit szólsz hozzá! Töltsd le, próbáld ki! :)
Media appearances
Média megjelenések
---
Contact
Elérhetőség
---
Contact us! - in case you have any questions or comments
Írj nekünk! - ha bármi kérdésed vagy megjegyzésed van